Farm Fresh Goodness Straight to Your Plate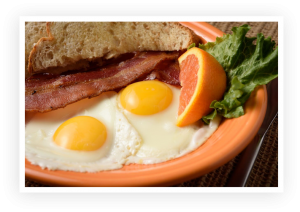 When you own the farm, you can make this guarantee. We farm over 10,000 acres of fertile ground to help produce the feed for our three million egg-laying hens right here in Kosciusko County. So when we say it's "fresh from the farm," we mean it!
A Little History
An idea and the courage to venture into a new business set the stage in 1925 for what has become a successful family agri-business many generations later.
With 38 acres on the old Creighton homestead, brothers Hobart and Russell Creighton rebuilt a failed, empty hog house to begin their careers in the poultry business. They staked their family's future on the production of 1200 pullets. Within 10 years, Hobart and Russell had developed the highest rated Leghorn strain of egg laying hens east of the Mississippi River. Also, they were well on their way to being a large part of the area's notoriety as the "Egg Basket of the Midwest." Nearly a century later, their foundation of dedication and sacrifice is the tradition that continues to guide the company today.